Review Nokia 8910i

Nokia 8910 became very popular due to a high price, unusual opening and titan exterior. A revised model Ė Nokia 8910i is also rather successful. It differs from its predecessor in color of the phone (now it has only one black color) and availability of color screen. Like the other models from this phone line, a new display is capable to support only 4096 color. The other important difference is Java applications support.
The phone measures 103 Ė 140.5 x 46 x 20 mm, it can be comfortably worn in the pockets or a hostel. The handset weighs 112 grams, what is a little bit heavier than the weight of the standard phone. On the other hand, titan exterior, which increases the phoneís weight, absorbs shocks and protects hardware. Scratches canít be noticed on this phone even within the time; the color is not changed. To open the phone, press 2 side keys simultaneously and main part of the phone would be slid. As for me, the main block is slid slower compared to the predecessor, though difference in weight is only 2 grams. In contrast to 8910 there were no spontaneous openings of 8910i.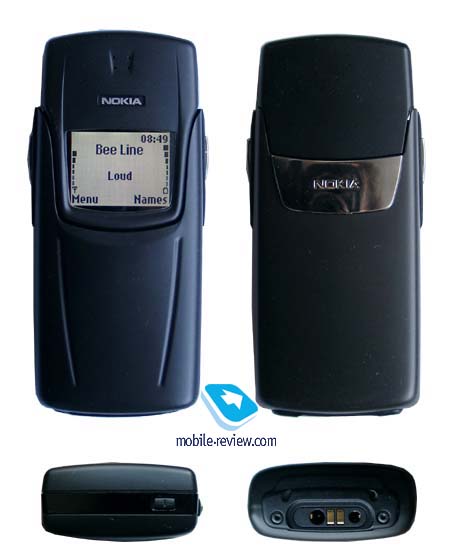 A keypad remains chromium-plated, but the surface near keys is a little bit raised. This solution made the phone design more attractive. Unfortunately, keys have only a side backlighting. It means that characters are not seen on the keys in the dark. Itís very inconvenient while creating SMS messages. A low row of keys is not very comfortable because you touch a phone when press them.

The display contains up to 4 text lines. Other models of this company have larger displays, but predecessor of this model had a comparable screen. Colors are not so bright as on the display of the phones based on platform 40 (Nokia 7210/6610/6100/5100). The picture looks dim. You can not always notice difference between the screens of 8910 and 8910i in the standby mode, but the new display is less comfortable. Itís obvious that a 8910i was equipped with a color screen just because itís fashionable, but the model became rather controversial due to it.
The phone has a lithium-ion battery (BLB-2) of 750 mAh capacity. According to the manufacturer it could provide up to 330 hours of standby time and up to 4 hours of talk time. Manufacturer declared that Nokia 8910 has the same autonomy. Our field tests (in Moscow) showed that a new model had lesser operating time than its predecessor. In case of 40 minutes of talking and 1 hour of using other applications the phone worked only about 4 days, although Nokia 8910 had 5 days of operating time. Time of full re-charging is about 2 hours.
A standard SIM-card holder is applied to this phone.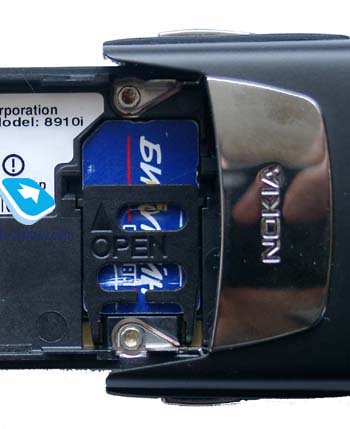 Menu
Menu structure is traditional to the phones from Nokia. Shortcut number navigation is available. Now letís turn to the main features.
Phonebook remained almost the same. Like in 8910 you can add up to 3 phone numbers to one entry and 1 text block. Totally, up to 500 records can be saved. If you decide to add 5 phone numbers and 4 text fields (notes, e-mail address and etc), a total number of records will be less. So, the phone has a dynamical memory. The handset supports up to 5 caller groups: family, VIP, Friends, Office and Others. You can select a special melody to each group. Up to 10 voice tags can be assigned to phone numbers. Up to 8 phone numbers can be quick dialed (keys 2-8; "1" is reserved for voice mail).
Messages. This menu item is necessary to create and read SMS messages and receive broadcast messages. Up to 10 templates and 10 pre-defined pictures can be used while creating a message. Apart from Inbox and Outbox folders, Archive, where you could save messages, you can create own folders.
One can use a predictive text input T9 to create messages, but you canít quickly switched languages, what is rather inconvenient.
Up to 150 messages (only text) and 50 graphic messages can be stored in the phone memory. As memory is dynamical, a total number of messages canít exceed 200.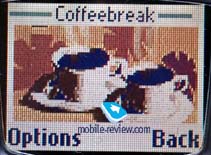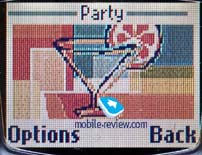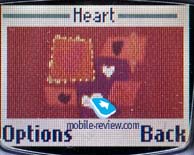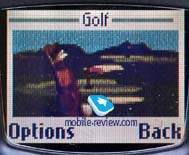 The phone supports MMS-messages. All settings are standard for Nokiaís phones.
Call Register. One can view lists of last 10 dialed, 10 received and 10 missed calls with date and time indication. To redial a number, itís necessary to press a send key in the standby mode. Cost and duration counters can be found in this menu too.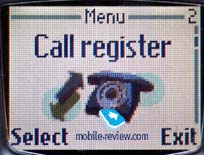 Profiles. Up to 5 userís profiles can be used in the phone. You can adjust ringing tones (totally, up to 35 ringing tones and a possibility to download up to 10 own ones), type of incoming alert (single, ascending, usual, short, silent), volume level (5 levels), vibrating alert (on/off), keypad tone, warning tones, set a filter for incoming calls (you can set special caller groups). Itís also possible to switch profiles in special time. We should notice that the phone doesnít support polyphonic ringing tones.
Settings. This menu item allows to choose a menu language, set date and time and time and date correction according to network settings (operator dependable function). One can also set a simple alarm-clock here (only once). It can alert even when the phone is switched off.
Other settings, connected with the phone, are also can be found here (GPRS settings in particular).
Games. Two games are pre-installed in this phone Ė Backgammon and Sky Diver. They are rather simple. The other shortcoming is that a game field is almost not seen as the screen has a low resolution.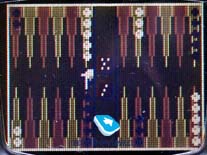 Calculator. Itís standard.
To-do list. One can record up to 30 points here and give a small note (up to 50 characters) to each one. Then, you can set a priority level (high, low, standard). Itís very convenient that a record from to-do list can be moved to a calendar to a special date.
Calendar. One can view a month calendar here and record current events. The phone enables to store 100-250 calendar records, it depends on their text length. A reminder (date and time) can be set to each record. Itís also possible to set a time, during which they will be kept, after this period they would be automatically deleted.
IrDa. Activation and deactivation of IrDa.
Bluetooth. Itís not fully realized, for example, not all accessories are compatible in automatic mode. Itís a great shortcoming, taking into account that there is no original bluetooth headset. The same problem was in Nokia 6310i.
Extra. Java-application can be renewed via Wap and deleted. A total memory pool is not large Ė only 140 Kb. It was selected at the expense of 1 minute of voice memo records.
Impressions
Reception and sound quality are rather high, as usual for phones from Nokia. Nokia 8910 was a copy of Nokia 6310. When engineers developed a new 8910i, they added a color screen and technical features of Nokia 6310i. On the one hand, this phone is rich in features, on the other - there are too many shortcomings there. The main ones are the following: bad color balance of the display, not correct work of bluetooth, shorter operating time. You canít distinguish 8910i from 8910 by appearance. Java is not considered to be a great virtue of a renewed version. So, owners of Nokia 8910 donít think about new 8910i. Those, who like to purchase one of this models, we recommend to pay attention to Nokia 8910. It is more reasonable choice. Small phone memory doesnít allow you to use Java-applications in reality. If you even find those, which you are satisfied too, screen quality will be irritating and you canít work. In our opinion, releasing of this phone is just a marketing action, as users had been waited for an expensive fashion handset with a color screen from Nokia. If you select your phone from fashion point of view, you can pay 650 USD for 8910i, but, if to say about comfortability of using, Nokia 8910 has more advantages.
Eldar Murtazin (eldar@mobile-review.com)
Translated by Maria Sennikova (maria@mobile-review.com)
Published — 31 March 2003
Have something to add?! Write us... eldar@mobile-review.com