Print this review
3GSM Congress 2006. Samsung
3GSM Congress, Samsung – live photos from the stand>>>
Samsung is using 3GSM Congress in order to present as much models targeted for European market in the nearest 6 months as possible during one event. It's not a secret to anyone that a lot of models that are announced sometimes do not reach the market; they get cancelled due to certain reasons. This year will not be an exception. Big variety of models will be compensated by the fact that part of them will never be released. But in order to bring in justice we'd like to point out that this year Samsung will try being maximally practical by demonstrating those models that will be released in the nearest future in the first place, these models will be interesting for the consumers.
The company decided to concentrate on two directions: first is the so called "thin" line-up, with a lot of attention dedicated to 3G. Second focus is innovation, we will see products that support WiBro, T-DMB, HSDPA and other standards.
Thin series or following Motorola's steps
Here the company is presenting the earlier announced models. The series begins with a phone which size equals a credit card - Samsung P300. This model has some interesting solutions, you can read about it in our review.
Sliders D800/D820 are really close to retail market, so there are no secrets of their functionality, the reviews of these models are already available at our site.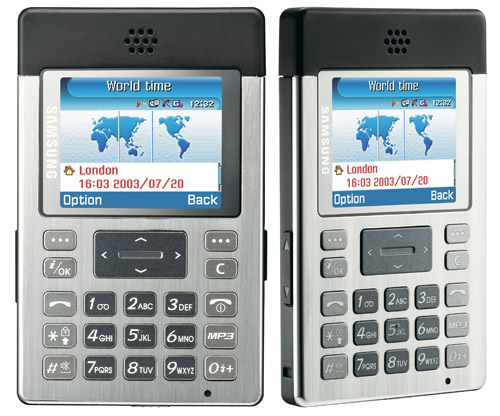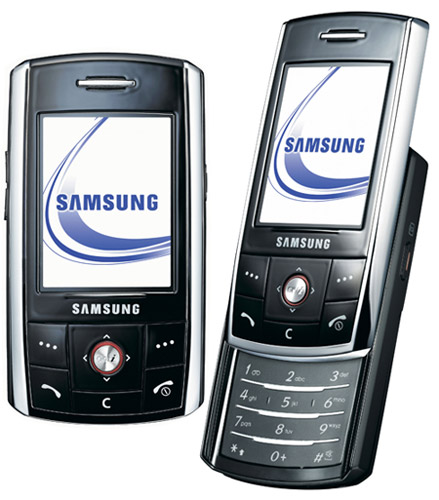 Alternative to sliders of 8xx series is D520. This model is not so wide, has auto-completion mechanism, but its specifications are very simple. There's no memory card slot, the internal memory is only 80 Mb. The camera is only 1.3 megaxpixels, and the screen's resolution is only 176x220 pixels. The functionality wasn't cut completely, Picsel Viewer is still present.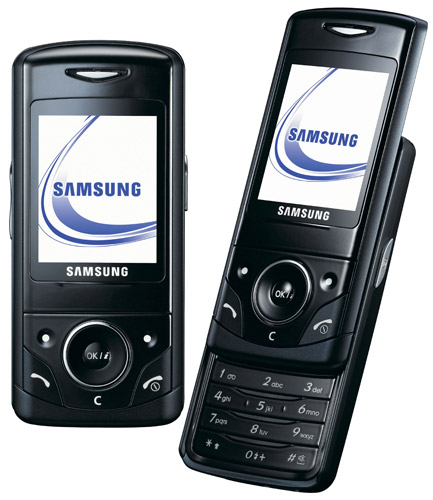 There will be a whole line-up of models for 3G networks, including Samsung Z510, it's a simple clamshell phone of this class. It's a copy of D810, with slightly different design, there's no expansion slot for memory cards but the internal memory size was increased to 138 Mb. The supported codecs are: mp3, ÀÀÑ, ÀÀÑ+, e-AAC+, WMA. The camera has 1.3mpx resolution, an internal display is QVGA. In order to get some idea of how this phone works, you can read the review of D810.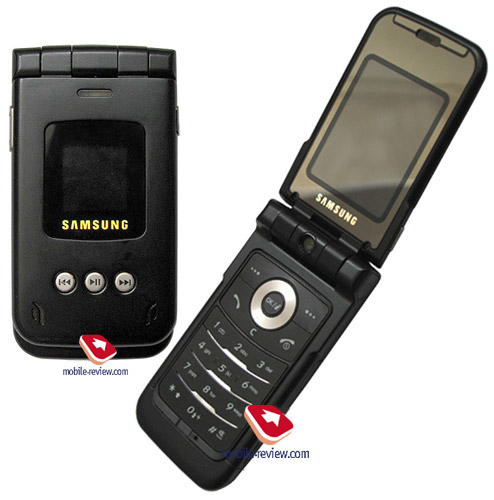 Model with two stereo speakers, non-rotating camera module and slightly bigger size of internal memory is called Z540. Another difference is the resolution of the external screen: 128x128x pixels versus 96x96 of younger model.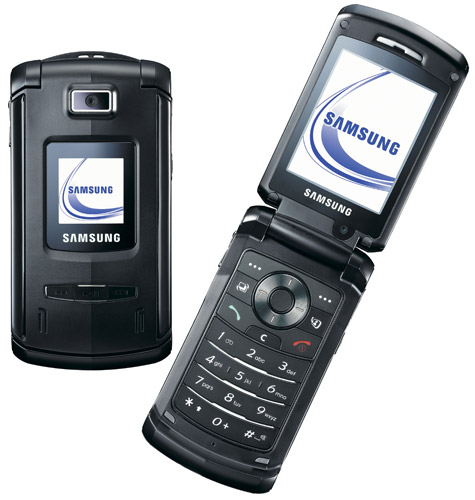 In case you are looking for thin candybar shaped phone like Motorola SLVR L7 you might check out the newly announced Samsung Z150. The model is very simple in terms of specifications, the screen's resolution is only 176x220 pixels, VGA camera. Phone's size is 117x46x9.8mm, its weight is 89 grams.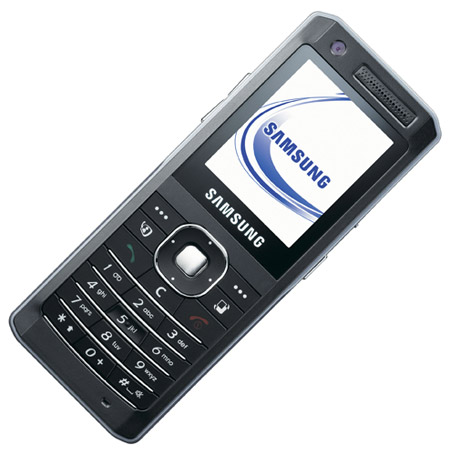 Another product that was inspired by Motorola is i320. This is Windows Mobile smartphone that works on the new 5.0 version. There's QWERTY keyboard, QVGA screen that is capable of displaying 65 K colors. Internal memory size is 120 Mb, there's miniSD card slot. Stereo speakers, Bluetooth, extended voice control. Phone's size is 111x59x11.5 mm, the weight is 95 grams.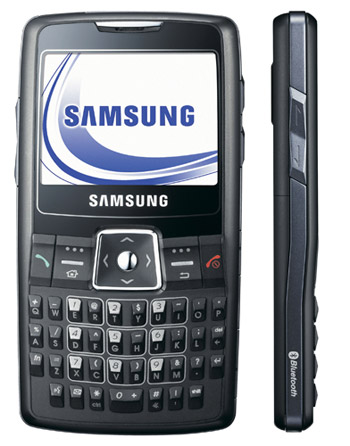 Z-series or 3G for Europe
Big number of models make up the Z-series, two of them were described above, now we'd like to tell you about the rest. The top model is Z710, this phone has 3.2 megapixle camera, built-in FM radio, stereo headphones. Phone's size is rather small – 95.7x47.5x20.4 mm, weight - 107 grams. The amount of internal memory is 128 Mb, expansion slot for microSD memory cards is present on board. Piscel Viewer and TV Out are here as well. The internal QVGA display has 2.15 inch diagonal. Business card recognition/scanner can be noted as one of those unusual features.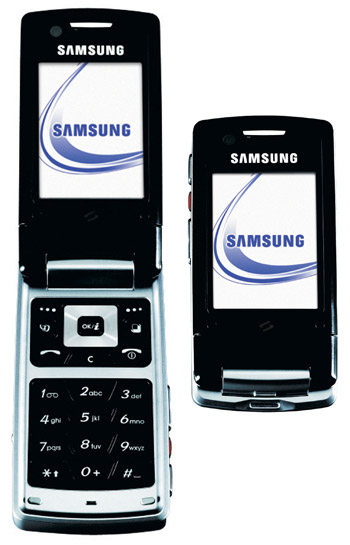 A phone with design similar to E350 is called Z350, its functionality has been significantly increased though it has 1.3 megapixel camera, QVGA-display, Piscel View, the presence of microSD extension slot. On the other hand, for 3G networks this is a low-end model.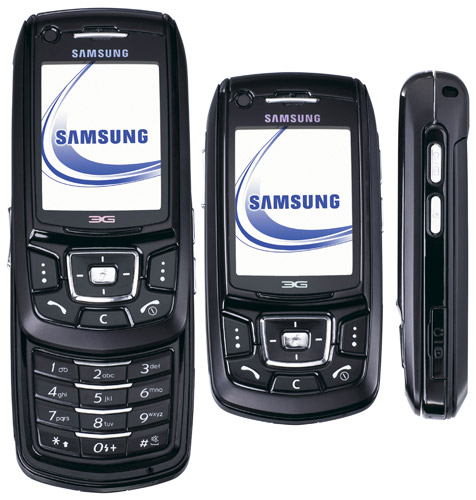 Z320i is based on Z350 model, it has i-mode support (step 3). Specially for I-mode users the specifications had been cut, the screen's resolution is 176x220 pixels, there's no Piscel View support or an extension slot. The internal memory size is 120 Mb. The same price is explained by costy i-mode solution, this model is not supposed to become a hit.
Copying successful design of its own models becomes a casual work to do for Samsung, a lot of new models are just copies of the already existing ones. For example Z330 is based on Å330's design. Although once again we can't compare these models in terms of functionality, they are different. Z330 has 1.3 megapixel camera, Bluetooth, 176x220 pixel display that can display up to 262000 colors. There's no extension slot, but you can find up to 140 Mb of internal memory.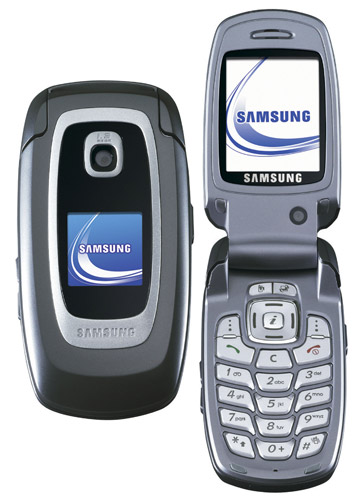 In spite of lower index, Z310 has more functions: microSD card slot, two speakers, Picsel Viewer, external mp-3 control buttons. Samsung Z520 is almost the same model but besides features mentioned above it is equipped with a 2 megapixel camera and has 3D games support. Other functions are the same.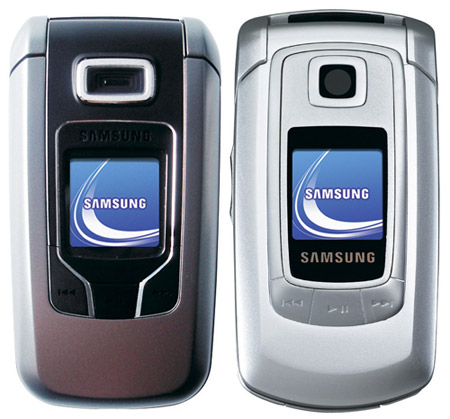 Samsung Z600 is from smartphone line-up. This is a 3G phone, it is based on S60 platform, has 2 megapixel camera, miniSD extension slot, 70 Mb of internal memory. This model is late to be launched and doubtfully come on the market. It is not optimal in terms of price/ratio. Samsung is a catch-up player in Symbian market, all models are displayed only for exhibitions and shows.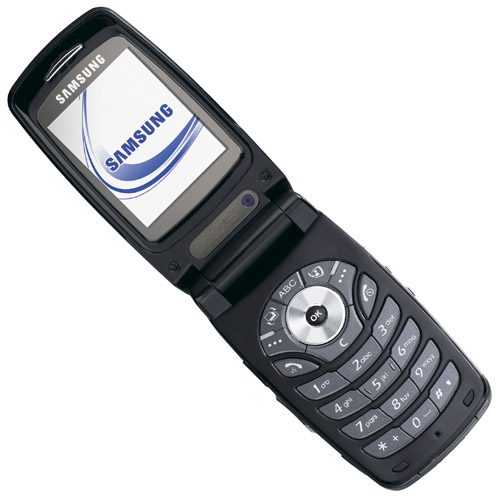 Trendy line
Samsung cheated on its own traditions and decided not to show anything new in its fashion line-up. Serene is well-known and can be already found in retail sale. You can find its review on our site. S400i doesn't really belong this class, it supports i-mode, is released in limited numbers for operators and doesn't really have anything special in terms of functionality. It's really similar to GSM analogues that cost less.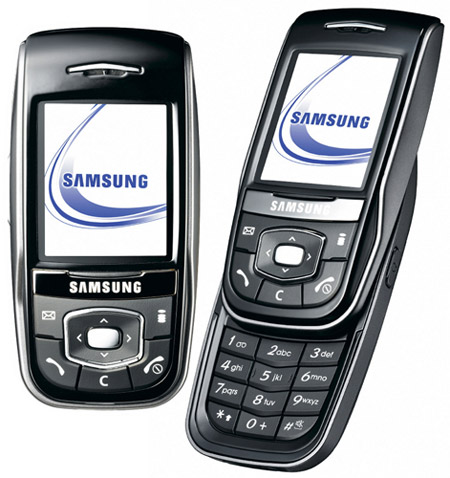 A brand new model in the full meaning of this word is X300, this is a successor of X200 with built-in FM-tuner and without the camera that is typical for these models. The screen was updated, it became brighter, its resolution is 128x160 pixels. The external screen is monochromic. There's limited IrDA on board. Curious that the design of E700 has slowly moved into cheap solutions base. This model will not cost more than $150 when it will hit the shelves, the review will come up in the near future.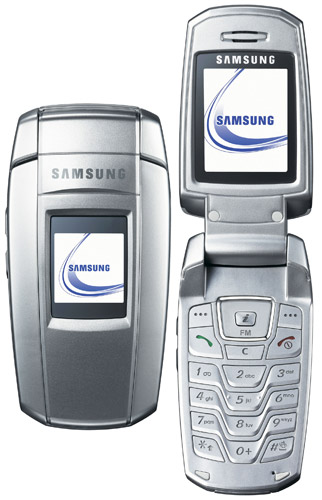 The successor of the female line-up is E870, it's an updated version of Å770 with some make-over, the only difference is the case style. Here you can see that it is white, matt, some may see an iPod association while looking at it, although this comparison is kind of overrated. The phone's opening mechanism is comfortable, and it will be loved now or never. We can't say that this model will be a hit, it's a good product, nothing more than that. The phone will be unable to repeat T500's success. Review is coming up in next few days.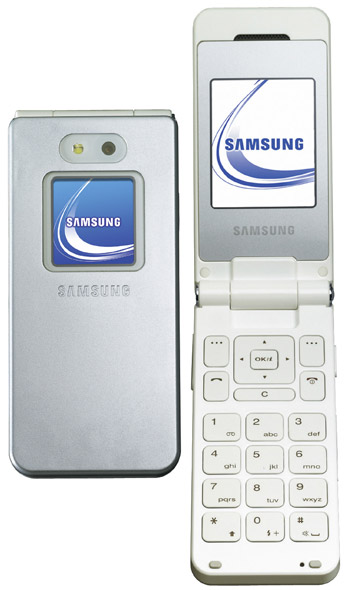 The company decided to skip demonstration of rotate phones, even though there is the required minimum of these models in development. Another model is on its way, called Cube (pre-title), it will become Serene's successor, also made in cooperation with B&O. Although B&O made it clear that you can wait even a couple of years before this model will be released. If you look at the phone's title it becomes clear how the keypad will be placed. The design should stay unique even if it hurts the ergonomics.
Business series
There won't be any surprises in the next 6 months, D630 is far from being released, and the current top model is D600E, which had some delay in its released, but the sales are good anyway. At the same time sort of lack of business solutions can be felt, you can hardly call the outdated D720 a business solution, even though it is displayed in this category. D300 is the replacement of the earlier cancelled D550, it has weaker specifications. The smartphone I750 has some interesting solutions and 3rd party software, but is way behind from the current models of other manufacturers. It turns out that Samsung decided to wait until 2nd part of the year for its strike in the business segment.
Review Samsung D300
Review Samsung D600
Review Samsung D720
Review Samsung I750
HSDPA. Samsung is cooperating with Vodafone in this area, the first model will be released for this operator, it's called Samsung Z560. Continuing traditions of slim series this phone offers work in HSDPA networks with the speed up to 1.8 mbps. It seemed that this model is similar to current phones, but it isn't. For the first time you can see a 2 mpx camera with an autofocus in metal case which has 16 mm thickness. The screen's diagonal is 2.3" instead of the common 2 inches. Once again we can see stereo speakers. Other specifications are more common: microSD slot, Music Player control buttons on the front panel, Piscel Viewer, TV Out, 30 Mb of internal memory. Interesting to see that the amount of supported codecs has been increased: ÀÀÑ, ÀÀÑ+, RealAudio, WMA. The phone's size is 97.3x51.3x16 mm, its weight is 98 grams. The model is supposed to be released in the end of the 2nd quarter.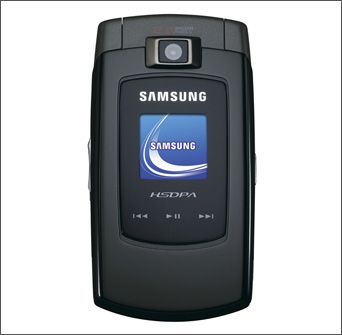 Mobile television. The manufacturers are going into the stage when fight for the consumer is not only based on products, but the technologies as well. We will be forced to use the standard in which the operators will be interested. Samsung sees perspectives for T-DMB technology, the first phone for European market that supports it is based on the already released model for Korean market (release date: April, 2005). Its index is P900 and planned release date is 2nd quarter of 2006. I'd like to make a note that there isn't much of a chance that this model will actually go for sale, so don't build much hopes for it.
The phone's weight is 124 grams, its size is 94.5x47.5x26.6 mm. The internal memory size is 128 Mb, you can also use the external microSD card slot. The phone does not support UMTS networks, only triband GSM. The TV signal can be recorded in mpeg4 format, the internal display is capable of displaying up to 262000 colors (QVGA resolution, 2.2"). The model has 2 mpx camera. Similar version with simplified specifications (including 1.3mpx camera) is called Samsung P910.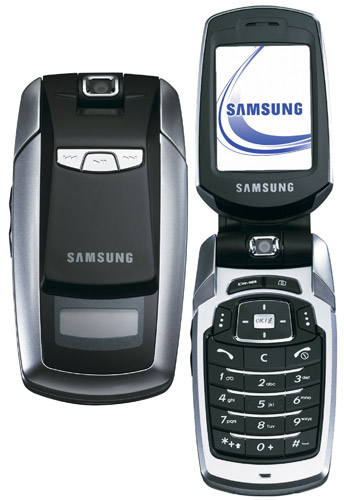 The company is releasing models with Satellite TV support in S-DMB format for Korean market, take SCH-B340 for example. The phone's design reminds of Samsung D720, but it has 2mpx camera, movement sensor (similar to E750/E760, MP3 BeatBox Gesture), 100 Mb of internal memory. Other specifications are the same. This makes us think that soon D820 will get an update: a SCH-B340 clone.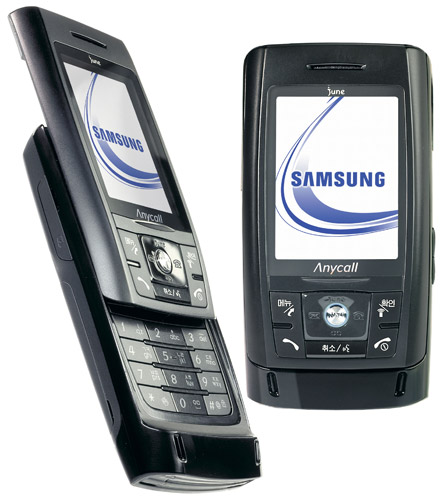 Another model for S-DMB format is B3200. Its specifications are similar to the above mentioned model, except for the form-factor, this time it's slider and we have 3D Games support (no movement sensor though).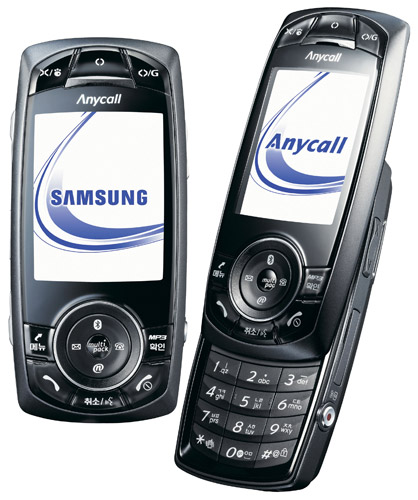 The ultimate solution in this standard is B380. Clamshell phone, 96x48x27 mm and 5 mpx camera. Other specifications are common.
Short summary
The number of models presented in 3GSM Congress is big, but there aren't any completely new solutions among them. In the fight for European market the company decided to focus on its strong sides, instead of new form-factors, image factor, we see 3G phones in slim design. There's no argue about the number of models, there are a lot of them, but they get released after similar solutions from Motorola and Nokia went for sale. Once again Samsung will have to catch-up the leaders. This will not allow the company to implement its full potential. Focus on other directions of development would have been interesting in case we had strong backup for traditionally popular segments. In my opinion by the time CeBIT starts the company will realize that betting on newly announced models is wrong, and we will see around 10 fresh models. Time will tell what future brings, meanwhile we will take a look at what other manufacturers decided to show at the 3GSM Congress. Stay with us!
3GSM Congress, Samsung – live photos from the stand>>>
3GSM Congress. All available articles. Content>>>

Eldar Murtazin (eldar@mobile-review.com)
Translated by Alexander "Lexx" Zavoloka (alexander.zavoloka@mobile-review.com)
Published — 14 February 2006
Have something to add?! Write us... eldar@mobile-review.com