HTC Wizard platform - the example of Qtek 9100 smartphone
Standard kit:
Smartphone
Charger
Wire stereo headset
miniSD card (optionally)
USB cable for synchronization
Horizontal belt case
CD with the software
Manual
We still like to see the plenty of new communicators and smartphones. Ever more new companies join the game, and old players plan for 2006 to increase 2-3 times the number of devices. Currently the leading position is occupied by Symbian OS derivatives (major pie for Nokia with Nokia Series 60 devices). However if we do not take into account Nokia, the number of Windows Mobile devices is much bigger. The burst of Windows Mobile share among sold devices should be expected only next year.
The success of Palm Treo and BlackBerry, the rapid development of push-mail give no rest to manufacturers. Manu try to copy design of Palm and RIM devices, make a similar device: a candy bar, the QWERTY keyboard under the screen. At the same time the keyboard ergonomics depends greatly on buttons size and thus on shell width. Despite of the fact that such Treo-like buttons location settled down and enjoys market demand, manufacturers keep on searching. From good, but not popular models I'd note Nokia 9000 series and the cancelled Motorola MPx transformer.
It took manufacturers little time to find the happy medium, a compromise between the size and comfortable QWERTY-keyboard. This is a so-called side slider form-factor. In this case the width doesn't matter, only the height, which is always bigger. The keyboard turns to be much comfortable, though it doesn't take place on the front panel. Strange, but this isn't a new form-factor, we can remember Bsquare Power Handheld, LG F9100.
At the same time this form-factor had been useless with Pocket PC for a long time. There were just two problems. Firstly, the main reason is that the system can't work in album mode (the problem was solved in Windows Mobile 2003 SE). Secondly, there was a weak integration of the keyboard and the operating system, the keyboard fulfilled only text input function (most of the problem is settled in Windows Mobile 5.0). Well, after the release of Windows Mobile 2003 SE it was just a matter of time, when devices will appear packed in this form-factor. Today we'll talk about the first representative of this class, it's the Wizard communicator by the Taiwanese company HTC. That's just beginning. For example, Sharp has already announced its new communicator in this form-factor for the Japanese market.
We've been testing different versions of HTC Wizard for more than a month, watching the growth in stability of the device, the preparation of the final russification version, corrections of software mistakes and improvements in hardware. We haven't published this review before on purpose, as many crucial moments got clear at the last moment. I'd say that processor performance with the final ROM update increased by 50%. Battery life increased greatly and so on. We tried to offer our readers not only the full review of the new product, but also some advices on the usage. The review turned to be long, so if you have little time, you'd better pass to the final part of the review "Conclusion".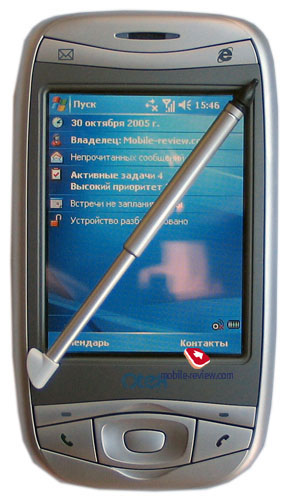 Traditionally, I'd say some words about HTC. HTC (High Tech Computer) is the main producer of Windows Mobile smartphones and communicators. In contrast to Nokia the name of HTC says little to users, so it requires some explanation. HTC is Microsoft Windows CE platform development partner. The company releases already the fifth generation of smartphones and communicators. As for PDAs, the overwhelming majority of modern PDAs on Pocket PC platform appeared due to HTC (HP iPaq, Dell Axim, Fujitsu Siemens Pocket LOOX). HTC products come out under various trademarks (on ODM/OEM contracts) of mobile service providers and other companies. They are T-mobile, Orange, O2, Vodafone, Qtek, I-mate, Dopod. The trademarks of Qtek and Dopod belong to HTC. The first one s focused on the European market, and the latter - on the Asian market. Usually the differences are in slightly different design and another name on the shell. In particular, HTC Wizard will be available under the following names: Qtek 9100, I-mate K-Jam, T-mobile MDA Vario, Orange SPV M6000, O2 XDA Mini Pro, Dpod 838. With time the list will be continued. HTC means little to common users, but experts are familiar with it well. To avoid confusion we'll call the device the Wizard (the code name). Inside HTC they still use the old name - the Prodigy. But remember, almost everything in the review equally relates to all mentioned brands.
From the one side HTC Wizard is the combination of HTC Magician and HTC Blue Angel, from the other side it's a brand new branch in the communicator line by the company. We could trace in HTC products before the release of HTC Magician 2 strict lines. The MS Smartphone devices with the digital keyboard and without a touchscreen look like ordinary phones (HTC Tanager, then HTC Voyager and Typhoon); and the Pocket PC devices with larger size compared with ordinary Pocket PC and the standard screen look like ordinary PDAs (HTC Wallaby, then HTC Himalayas and HTC Blue Angel). HTC Magician platform, as well as HTC Wizard represents something average in size between 2 branches, an intermediate version. In the 4th generation this branch gets divided into another 2 lines (devices with the built-in keyboard and without it). To add, next year there will be more than 5 branches for HTC.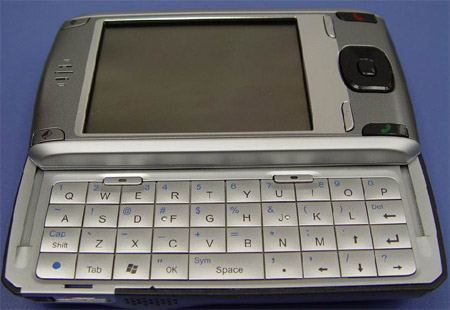 On the market will be several versions of the communicator differing in design and camera:
Wizard 100 (see it on the photo above). It has less rounded design, more strict lines and more comfortable keyboard. First of all it will be available for American GSM networks.
Wizard 110. It has no camera, that's the difference from the Wizard 100.
Wizard 200. This is the main design of the platform (our review deals with this very design), which will be replicated by the companies.
I'd like to highlight a CDMA version - HTC Apache (PPC6700 model for Sprint operator). It differs in an external antenna, other design and processor (Intel instead of Texas Instruments). This smartphone deserves a separate review.
If we talk about HTC Wizard in comparison with HTC Magician, we have the following picture:
Improvements involve new OS version, addition of Wi-Fi support and QWERTY-keyboard.
Changes for the worse imply a relatively thicker shell, heavy weight, not the most productive processor, miniSD cards instead of SD/MMC.
If we look inside the device, we'll understand that the communicator was projected from "zero" stage, as a matter of fact it wasn't based on previous models. Everything is new: the board, new generation of flash-memory, new versions of Bluetooth and Wi-Fi. Because of it we paid much attention to this model.
Design, keyboard
The shell color of the communicator is the combination of Silver, Grey and Black. The shell feels metallic, however the main part of the shell is made of Silver plastic that feels expensive. The assembly quality is traditionally high. You can hardly reproach HTC with using poor quality or cheap materials for the shell. At sides you see a ribbon of black plastic. The screen frame is made of metal.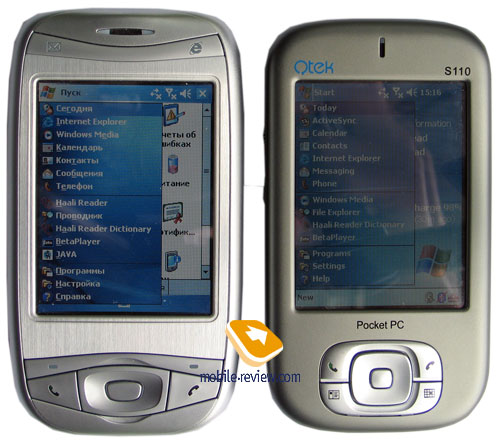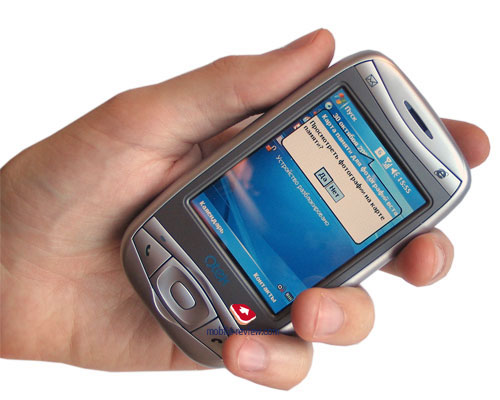 HTC Wizard features rounded design accented with curves of double buttons. Besides it looks rounded because of its relative thickness (dimensions - 108x58x23.7 mm). As you see it on the photos, height and width of HTC Wizard is similar to HTC Magician. For a QWERTY-keyboard device it has light weight - 169 g. You'll feel comfortable to carry the communicator on the belt, in the jacket's pocket, but it is weighty for trousers.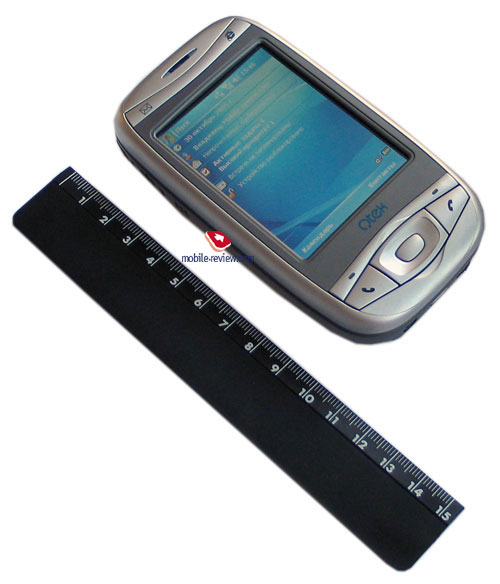 The form of double buttons above and under the screen is imposed by design and symmetry with slight harm to ergonomics (compare the proportion of the soft button and Talk button). The joystick is quite big and comfortable, if you turn the device in landscape position and use buttons above the screen, you can play some games, which do not require many buttons.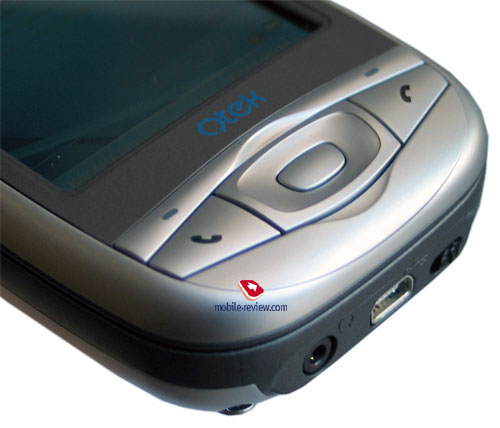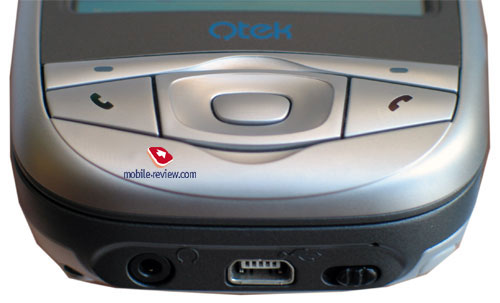 The buttons on the front panel are comfortable, but aren't designed for gaming. However if you turn the device in landscape position, you can use them to play games. In fact, two buttons above the screen (launching e-mail and Internet browser) have been used most of all. Above the screen you see a speaker for talks and two light indicators.
At the right side we find a camera button, a voice control button, an infrared port and a soft reset button. I'd note stereo speakers placed at sides. You'll hardly notice a stereo effect, but they add to sound volume.
At the left side is a sound volume slider, it's possible to assign to it another action, for example, with AE Button Plus application. Here you find the second speaker and the button launching wireless adapter manager.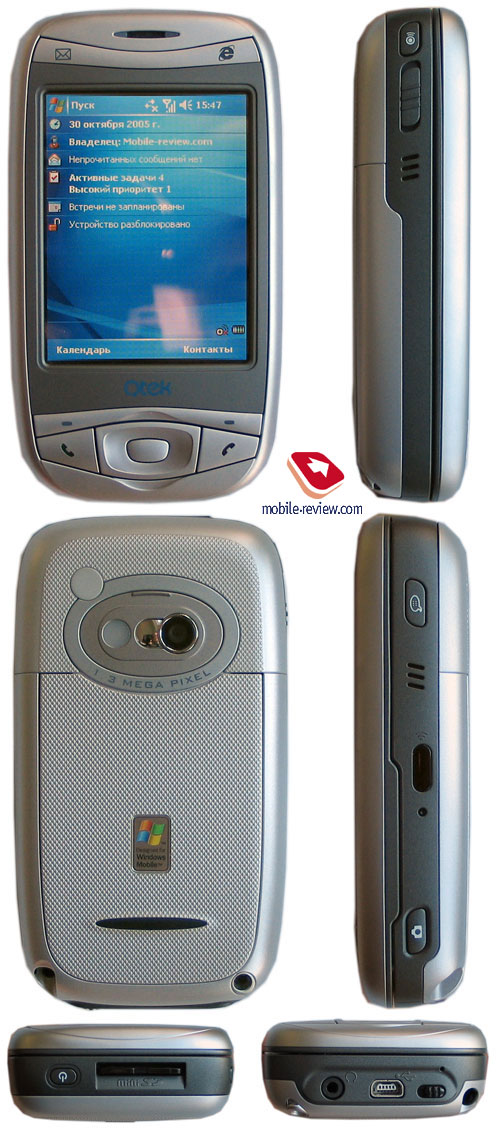 At the bottom we see a 2.5 mm audio jack, a silo, an integrated mic, a metallic ear for the strap, a battery compartment lock and a miniUSB connector. For the companies making Windows Mobile communicators the 2.5 mm audio jack and miniUSB become a de-facto standard.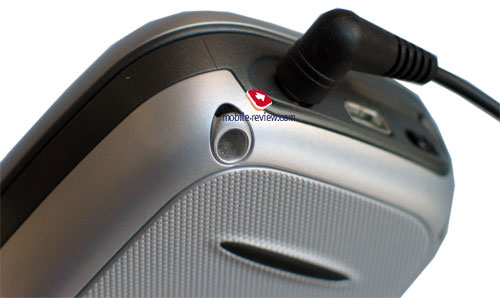 Every side has control elements, at the top there are s power button and a miniSD slot. For users the switch to miniSD slot from the popular SD/MMC means the change for the worse. The old user of Pocket PC will have to switch to another format, and the new user will get less memory card storage space (1 GB miniSD against 4GB SD). The miniSD slot should be considered a drawback, if you'll use memory cards capacious of more than 1GB.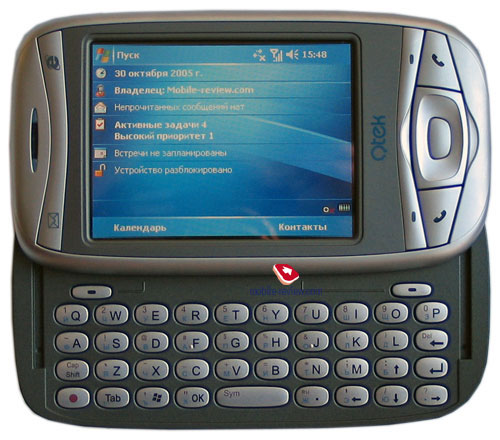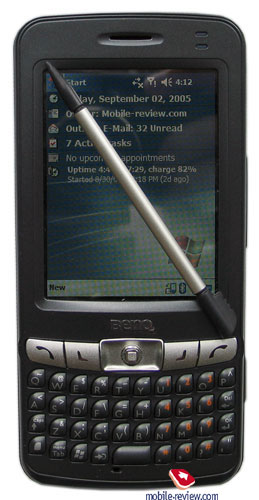 At last we pass to the built-in keyboard. As we've already said the use of the side sliding keyboard allows to have a larger keyboard with higher comfort. Just see the photos to compare it with BenQ P50.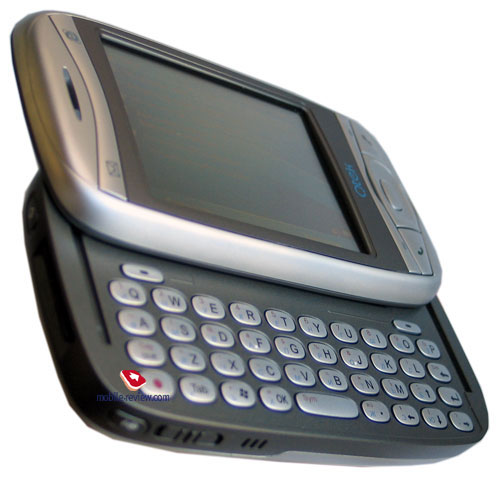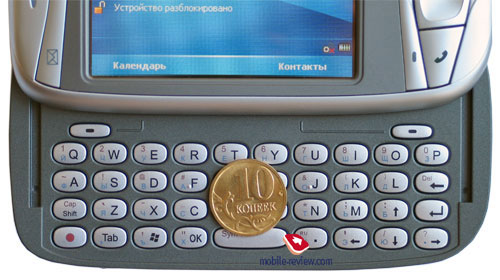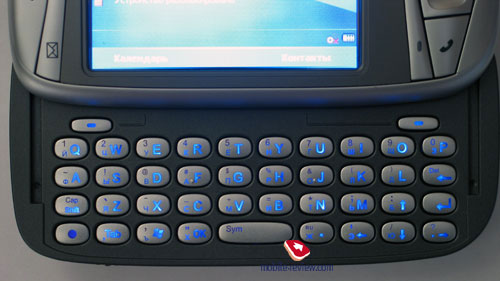 There is no automatic closer, but it's possible to open/close the device with one hand. The buttons are big and have comfortable location, so this keyboard is one of the most comfortable on the market, it loses only to Nokia 9300/9500. The keys feature distinct feedback. It's possible to control the device using the keyboard only, but in open mode. This is the advantage of the new operating system. The backlit buttons are seen well in the dark as well as in light, but unfortunately you can hardly make out Russian buttons.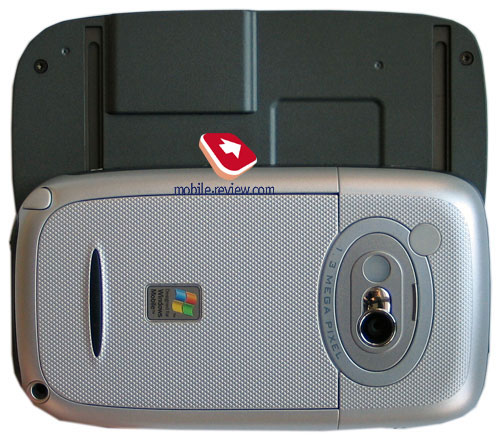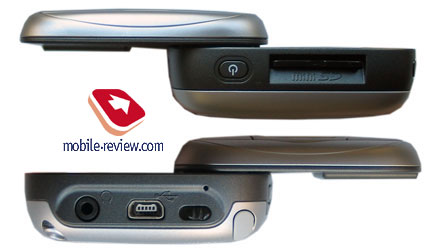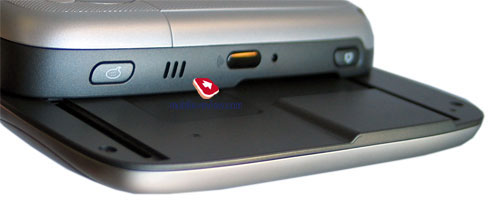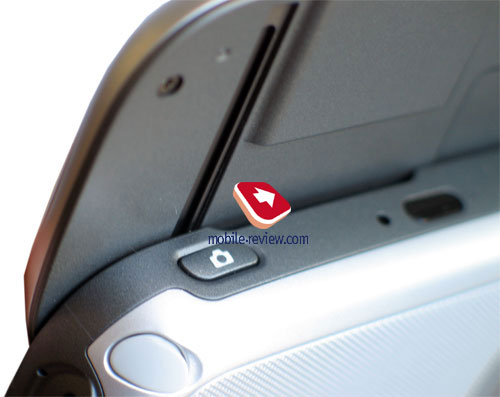 The device will be shipped to the Russian market with the russified keyboard. When you switch to the Russian layout, navigation buttons get busy, but this is no problem, as you can use the joystick. I have to say that HTC Wizard 100 comes with a more comfortable keyboard.
The first typical reaction of the users of HTC Wizard (Qtek 9100) communicator without the QWERTY-keyboard was the lack of understanding, "not many users need the built-in keyboard, they do not need it". To say the truth, I had similar thoughts when I saw the device (I enter texts quickly with the virtual keyboard). Once you got used to answer SMS and e-mails and work with the interface without the stylus, you feel it hard to miss this opportunity.
Camera
From the very beginning HTC offered devices in two versions - with and without the camera, other companies start realizing this necessity only now. The latest model doesn't make an exception, one of the versions doesn't have a camera (it will be used by operators mainly). Qtek and I-mate models will be equipped with an integrated camera.
The camera has the maximum physical resolution of 1.3 megapixel (1280x1024). At the same time "software" resolution is 2 megapixel by interpolating the initial image. There is no sense in such resolution (by this means the camera doesn't become a 2-megapixel one, the image quality isn't better), it's just a psychological thing - "2-megapixel resolution is better than 1.3-megapixel", would say the owner of the communicator or the potential buyer, the company believes. Taking into account the specs and image quality the camera hasn't jumped one level up from HTC Hurricane, the nominal improvement here is its integrated flash (torch). But in fact, it's useless - it doesn't let you get adequate pictures in the dark even in short distances up to 0.5 meter to the object.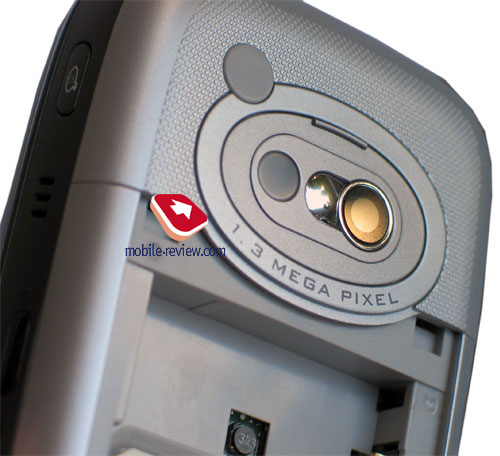 It will take you about 3 seconds (6 seconds, if several applications are launched) to start camera application and 2-3 seconds to record a high quality picture to the memory. If we deal with picture quality, it's slightly worse than in HTC Hurricane/Tornado. If we compare it with the latest smartphones by Nokia, Sony Ericsson and Samsung, HTC products lose to them absolutely, currently the company can't meet the competition. The pictures turn to be better compared with HTC Magician (Qtek S100, I-mate JAM), but suffer the same problems. In sunny days bright areas get white, it's difficult to make out details in these areas. At the same time under poor light conditions (cloudy, for example) the photos look as if taken at night. You can smooth noise using software, in result the photos get fuzzy.
HTC Wizard
In the settings there is nothing new, everything is quite usual. You can adjust illumination, color effects, resolution. There is manual adjustment of contrast, brightness, saturation, hues. You can switch off shutter sound, activate auto-shutter, set JPEG compression quality.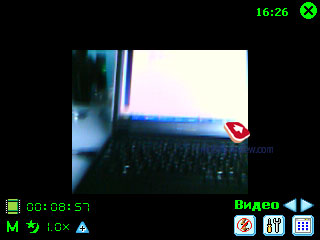 Video is recorded with sound at the maximum 176x144 pixels in MP4 or Motion-JPEG. Taking into account video resolution, video quality, low FPS, we can't treat video opportunities in this communicator seriously.
In all, we can say the following on the built-in camera. Its major plus is its existence. Nominal improvements remain a marketing thing, quality of taken photos is average. There will be major improvements only in next generation products.
Screen
This time again we should say standard words about the screen of this model, its features are similar to the majority of the new Windows Mobile communicators (we can also add Sony Ericsson P990). The matrix with the resolution 320x240 pixels can display 64K colors. The 2.8" diagonal has become in fact standard for such devices, we've mentioned it many times. The critical viewing angle makes up some 45 degrees, otherwise colors get distorted. When you look at the screen from sides, white color transforms to yellow (the problem since HP iPaq h1940). However the fact isn't troublesome, you'll hardly work with the screen at such angle. The screen is made by the Taiwanese company Toppoly, a detached LCD division of Compal (main shareholders are Compal and Kinpo Group). The screen is made under LTPS technology (low temperature poly silicon). By eye you won't tell it from the ordinary TFT-LCD, only production technologies are different.
Another small flaw is that there are just 4 backlight levels. Well, under the bright sun the screen proves good, it loses color, but stays readable. However the minimum backlight level is too bright for a comfort work in the dark, for example reading a book for several hours. As the screen on the whole, it turns to be slightly under the average level. That's not critical, only HTC Universal features a higher quality screen.
Battery life
According to the manufacturer the removable Li-Ion battery capacious of 1250 mAh is good for up to 8 days standby and up to 5 hours in talk mode. In the conditions of the Moscow network Megafone the communicator worked for more than two days (40 minutes talks per day, one hour of other functions, including GPRS). Under the higher load (adding MP3 playback 2-3 hours per day, 2 hours of Internet) the device lasted for 24 hours. If the communicator is almost idle, 5 minutes of talks per day, the battery life is extended by 3-3.5 days.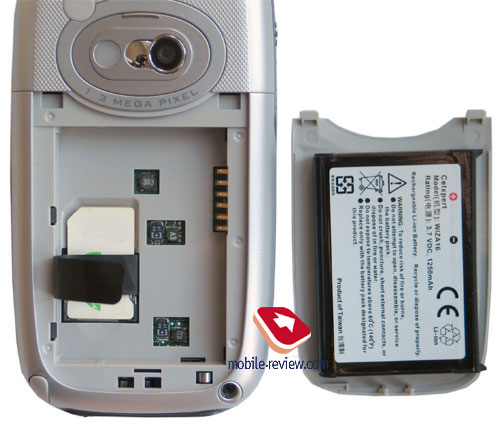 We held our standard battery life tests in 3 modes. HTC Wizard proved very good, it almost reached record performance of HP iPaq h6340 and palm Treo 650. In all, the battery life of this device is at high level.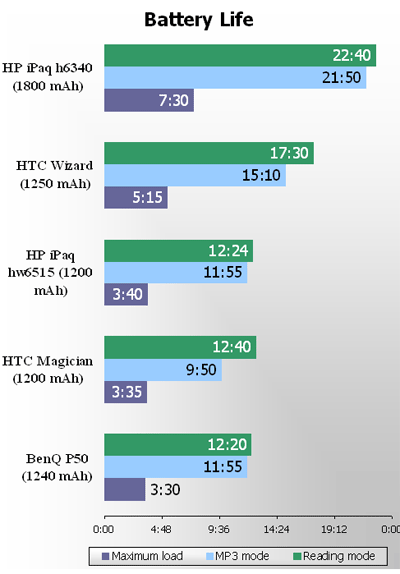 The SIM-card lock under the battery is quite typical and doesn't deserve special attention.
Interfaces
It was logical to add Wi-Fi module lacking in HTC Magician. I'd note that HTC Magician is the first model on the market with integrated IEEE802.11g module instead of the ordinary IEEE802.11b.
Let's see, what's the difference between 802.11g standard from the previous version and following extensions of this standard. The key change - higher speeds up to 54 Mbps (against 11 Mbps). The carrying capacity was improved due to the new modulation orthogonal frequency distribution method (OFDM). The working frequency remained the same - 2.4 GHz, along with the support of the old modulation method it become possible to have compatibility with the previous standard. Very seldom a small communicator requires high data transfer speeds, so we can't treat the fact as a great advance. 802.11i security standard (sometimes it is called WPA2, which is not quite correct) is of much importance, for now it is supposed to be invulnerable, that is very important for corporate users. 802.11e standard is meant to define quality of services mechanism (QoS) in wireless networks, it's important for applications linked with stream data transfer, for example, video transfer. The last two standards will be added to HTC wizard in new updates. In future (not for HTC Wizard, but likely to its successors) we'll see further extension of Wi-Fi family: 802.11n (higher carrying capacity), 802.11r (fast roaming), 802.11k (feedback with client's devices) and so on.
Well, the communicator has an integrated IEEE802.11g module (produced by Texas Instruments). It worked smoothly with b and g access points. At the same time we didn't notice any difference in speed. The connection took little time and required no fine tunings. There are 3 power saving levels - the maximum signal, the maximum power saving and average levels. I'd note that physically the Wi-Fi module is implemented as a built-in SDIO Wi-Fi card (like it will be in HP iPaq hw6715, Asus A636). But it's some internal matter for engineers, hidden from the ordinary user.
Wi-Fi standard becomes ever more popular in big cities (home access points and public access points, hotspots). In Wi-Fi zone you can talk via Skype, listen to online radio, watch online TV, receive large size mail, just roam the Internet. Within the home network you can open access to the folder with music on your desktop PC and listen to it on the communicator, for example. Currently there are enough programs for the potential of the built-in Wi-Fi module for Pocket PC (to add, there won't be any exterior programs to work with Wi-Fi on UIQ 3.0 for some time).
Comm Manager application known from smartphones should control radio-part of Pocket PC. At the last moment the company removed the control of GSM module, leaving only Wi-Fi and Bluetooth. It's possible to put them on/off, quickly switch to the settings. Press the necessary icon at the startup screen to launch the manager. Naturally, the modules can work simultaneously. The mode in flight switches off all wireless modules. You aren't satisfied with the opportunities of this utility, you can choose among plenty of alternatives.
Bluetooth version is 2.0 (some official specifications mark version 1.1 by mistake), this is the first PDA with the support of the new standard. Unfortunately, HTC refused to apply Broadcom drivers even in top products in favor of Microsoft drivers. The latter do not feature high functionality still, they have cut set of profiles and poor settings. Here are the opportunities of built-in Bluetooth:
Headset - the work with the wireless Bluetooth headset. We faced no problems during the test. Audibility is good. Voice dialing is available, but you should record tags. Voice dialing works good, you should press the button on the headset to activate it. Double press redials the last number. There is no digit dialing. The flaw is that if you make the PDA off and launch voice dialing, it won't be active (we hope the problem will be solved in a short time).
Transfer of objects. You can send/receive contacts, calendar events to/from other devices. It's impossible to transfer tasks and audio notes..
It's possible to send/receive any file. There is no full support of File Transfer service, you can transfer just one file. You'll notice this drawback at the file transfer from the device to desktop PC, an error happens and the transfer gets aborted (the problem is known from the previous OS version);
There is the support of COM connection emulation - Active Sync via Bluetooth runs smoothly;
Dial UP - it can access the Internet from the notebook or the PDA via Bluetooth;
HID - you can plug a Bluetooth-keyboard, but not a Bluetooth-mouse.
That's all for Bluetooth opportunities. Weak points result from limitations of Microsoft built-in drivers - there is almost no settings, no support of FTP profile, no support of Bluetooth stereo to transfer high quality audio.
The Internet connection via GPRS runs smoothly. There appeared the support of EDGE, however this function is actual for small potential auditorium of buyers (very often the operator doesn't support EDGE, or GPRS opportunities are enough to transfer data). However this model is very interesting for those operators, who already added the support of EDGE or plan to do it soon.
HTC Wizard has a full value infrared port like in any other Pocket PC. It supports SIR, i.e. data is transferred at the highest speed up to 115 kbps. You can use the communicator as the IrDA modem. However the use with the home techniques is difficult because of uncomfortable location of the port (at side) and its short effective distance.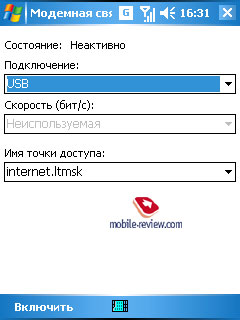 You can plug HTC Wizard via USB to PC using Wireless Modem and drivers installed on desktop PC. But do remember, in case of operator's request the external modem function can be removed from the software. To add, the device runs synchronization and gets recharged via USB.
Software
HTC was the first company to release a device on the new operating system. There is no wonder taking into account close relations of HTC and Microsoft. From this September on almost all devices released to the market will be powered by new Windows Mobile. You can read a detailed review on Windows Mobile 5.0 in the special material on our site. Today we talk about extra preinstalled applications, buildups and what new OS offers to HTC Wizard.
Review Windows Mobile 5.0 for Pocket PC>>>
Well, with the new operating system the user of HTC Wizard gets the following:
New memory organization. There is no data loss at strong battery discharge;
Word and Excel Mobile allow editing MS Office file, so you shouldn't worry about losing important data;
It's possible to carry out most operations without using the stylus pen (close integration with QWERTY-keyboard);
Improved interface of the phone part, the support of photos for incoming calls and personal melodies;
The communicator supports all input methods: hardware QWERTY-keyboard, virtual QWERTY-keyboard, recognition of handwritten texts in English (install Transcriber from the CD). From times of HTC Magician there is another input method - Phone Pad. In fact, this is a screen analogue of an ordinary digital keyboard, which was lacking in HTC Magician. If you stick a good foil to the screen, you can tap with your thumb. There is the support of T9, but only for English language. The absence of local languages and T9, the hardware QWERTY-keyboard onboard make Phone Pad in HTC Wizard an interesting additional feature, not more.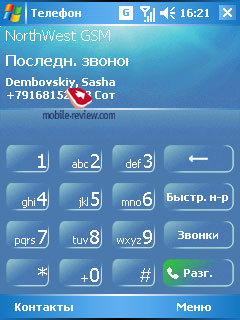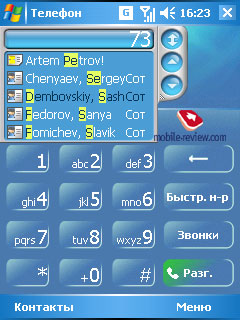 Smart Dialing. This buildup to the phone application adds contact search function, which is available in Windows Mobile for Smartphone. This function is implemented best of all in Windows Mobile for Smartphone compared with the analogues based on other operating systems.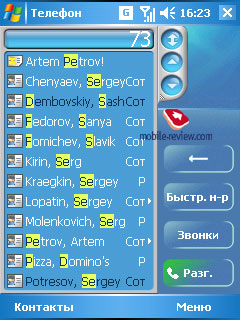 MMS. There is no built-in client for multimedia messages in the operating system, the developers have to use programs by exterior developers. In our case we have MMS Composer by ArcSoft (the version - 3.0.7.11). When you compose an MMS, the interface is vivid, intuitive and clear. You won't face difficulties with MMS.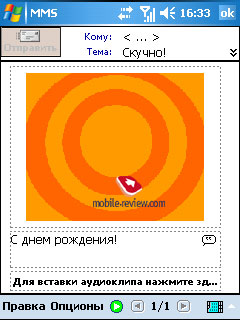 Voice Speed Dial. In this program you can record voice tags for phone numbers (including numbers stored on the SIM-card) or programs. The program won't function without training. As we've already mentioned there is a special button on the shell, which launches this program. This utility was developed by the Taiwanese company Cyberon.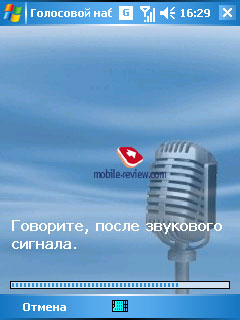 MIDlet Manager. As you make it out from the name, this utility launches Java programs. From all available programs not all of them work, however in case of the full value operating system that's not crucial. There is no support of Java 3D, the MIDP version is 2.0. the developer - Tao Group Ltd.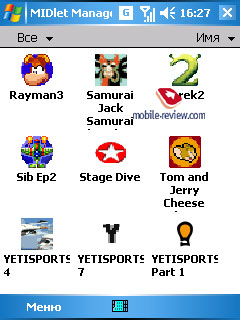 Zip. The utility worked out by HTC to back archive files. It's possible to extract files from archives and add new ones, fine tuning of compression is available.
Clear Storage. Phone memory formatting, hard reset.
SIM Manager. It manages contacts on the SIM-card. You can create an entry, copy it to the main memory, dial the number. Well, this utility copes well with main functions.
SIM Menu. This is the very case, when the name speaks for itself.
Localization
Built-in localization (in our case, russification) in Windows Mobile 5.0 is a headache for the market players. The russification version offered as the final doesn't stand any criticism. We've already paid your attention to the problem, but till the last moment we kept hope that current versions were just a bad joke of Microsoft. But alas, the miracle hasn't happened.
The number of inaccuracy and serious mistakes exceeds all reasonable limits. However that's a part of the problem, the main flaw is in the concept. According to Microsoft, if the device is meant for Russia, so everything should be in Russian. That is the interface should be local only (there is no possibility to switch to English interface, for example), there are no bookmarks with Latin letters in contacts, and the input of Latin letters from the virtual keyboard turns a nightmare.
Taking into account that raw and unreasoned russification most companies on the Russian market made the right decision to resort to the services of old partners (Paragon and Quarta Technologies). The built-in localization from Mirosoft for other languages seems to be that bad as the Russian variant.
I'd add, I've solved the localization problem on HTC Wizard by installing RESCO Keyboard and Pocket Informant. Translation mistakes turned funny sometimes, so I got elated.
Specs, performance
The smartphone is built on the new Texas Instruments OMAP850 processor working at the highest frequency rate of 200 MHz (if you're curious about this processor, you can learn more details at the manufacturer's site here). The CDMA version is equipped with the Intel XScale processor, but that's not our topic. Depending on the current load the clock rate gets changed automatically. There is 47.46 MB RAM available of 64 MB, available flash memory accounts to 49.97 MB of 128 MB (user's data stored here). RAM size is almost always enough, and with a memory card you shouldn't worry about flash-memory size. By the way, let's pass to flash memory.
Currently there are two popular memory types: NOR and NAND. The latter doesn't allow run XIP operations (execute in place) at higher speeds. The application of NOR made the ground for new memory organization in Windows Mobile 5.0. HTC Wizard communicator involves new generation memory of DiscOnChip type developed by M-systems together with Toshiba. Theoretically, new type of non-volatile memory combines all advantages of NOR and NAND, at the same time it is much faster. Physical dimensions of one chip are twice as little due to multi-level cells (one cell contains 2 bits of information instead of 1). You can read about the comparison of different memory types here.
Traditionally we start with SPB Benchmark package. Time goes by and the package gets less adequate, especially when we compare Pocket PC based on different Windows Mobile versions. But we have to use it, as there are no good alternatives to it still. Even 3Dmark Mobile package released when we prepared the review is a partial substitute to it.
If we believe the integrated index (the figure is 256), the results of HTC Wizard are ten times worse against top figures for Pocket PC with the QVGA screens. Is it a catastrophe? No, it's rather a peculiarity of calculation of the average, let's clear it up.

To calculate average value the developers of the test package decided to apply harmonic value. According to one of the fundamental consequences - it lowers average value, which is always less or equals to simple average. The index is good, if we apply it to normalized value or indices close to 1. However this is not observed in SPB Benchmark, average harmonic can be applied to non-normalized value too. Moreover, in the description of the index since the release of the testing package the gross error wasn't corrected.
We won't go into the mathematical analysis and show on simple examples, how average value can be distorted in different situations. Remember that from all average value types harmonic value is the lowest.
Well, let's calculate harmonic average of 1, 2, 3, 4, 5. We get about 2.19, which is close to the truth. Now let's suppose that one value is overstated: 1, 2, 3, 4, 1000. Harmonic average here is 2.4. Thus the average value isn't affected by anomalous high value. Now let's suppose we have one lowest value (as though instead of SDRAM we measure flash memory speed): 0.05, 2, 3, 4, 5. At it just one anomalous value pulls the average, which is 0.23. We hope that now you understand why very often SPB Benchmark is unable to correctly describe PDA performance.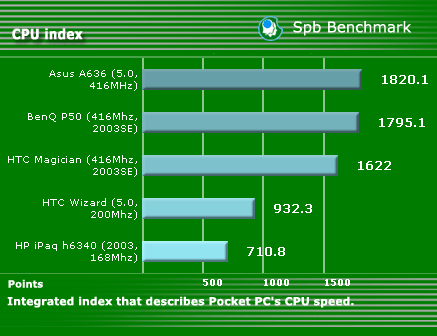 This index describes Pocket PC's CPU speed. We can hardly expect unprecedented results from a 200 MHz processor, though the results proved good.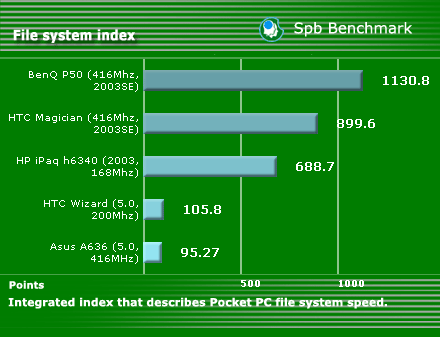 The file system index describes Pocket PC file system speed (read/record/move). Low results on Windows Mobile 5.0 stand for the charge for the new memory structure.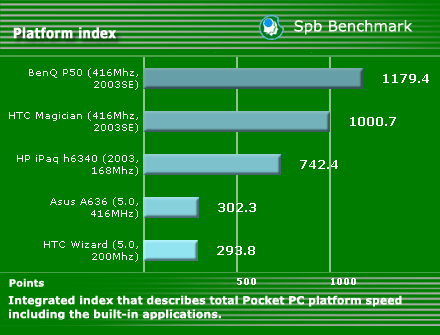 The platform index describes total Pocket PC platform speed including the built-in applications. As this index is based on the integrated index, well, low results can be explained.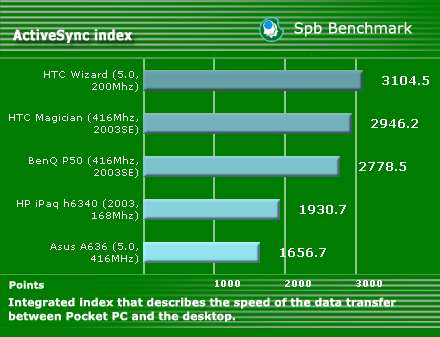 The synchronization speed is high (it doesn't have an impact on the integrated index).
We tested video with The Core Pocket Media Player (ex BetaPlayer) and got the following results. The productivity performance depends greatly on graphical accelerators and Wireless MMX, which is built in the latest Intel XScale processor. 100% performance means that the movie was played smoothly in average without dropped frames, however there might be dropped frames in active scenes.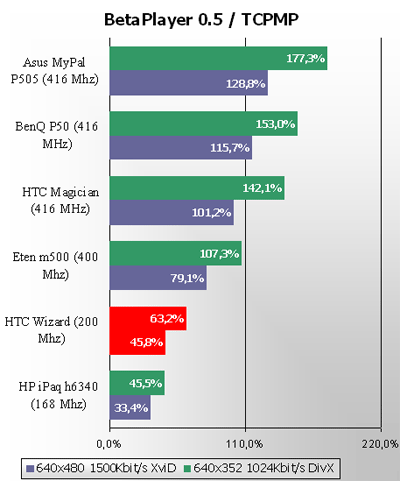 Thus, you need a preliminary re-conversion to watch movies on HTC Wizard.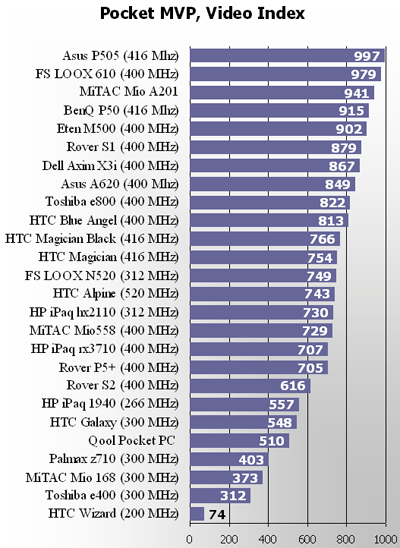 Even if we level the impact of accelerators and Wireless MMX, video playback results aren't good. We played 4 clips with different stream intensity. The index was formed on the basis of dropped frames, the index 1000 meant that there were no dropped frames at all.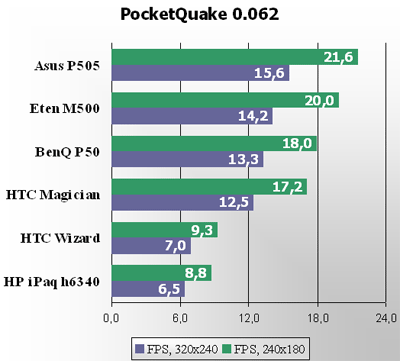 To test graphics productivity we ran tests of the PocketQuake game in the mute mode (turn the sound off by nosound 1 console command, leaving other settings unchanged). There is an averaged figure by 2 tests (Demo 1 and Demo2). We expected such results, HTC Wizard isn't good with resource-extensive games, but it copes well with simple games (puzzles, strategies and so on).
There were heated discussions in the Internet, whether it is possible to use Skype on in the Wizard. It's common knowledge that problems with Skype working on low frequencies is rooted in non-optimized program code, not in low frequency (for example, other VoIP programs work smoothly). Well, it's possible to use Skype without problems, should 3 conditions be observed. Firstly, the Skype version should be 1.2 or higher. Secondly, the talk should be made via the headset. Thirdly, other applications should be closed.
The resume on performance is the following. In all, the communicator isn't designed to play video without re-conversion and for heavy games. But if we speak about functions, which made us buy this device, everything works at appropriate speeds, you won't feel discomfort (by sight HTC Wizard works 2 times faster than HTC Universal). But once you launched something in background mode (music, for example), you'll see the processor working at full.
Impression and conclusion
As for network reception quality it is at a good level. Stereo speakers ensure enough sound volume at the incoming call, so you won't miss it even in noise conditions. You'd better set your own MP3 track for the incoming call. The vibration alert is average in strength. It's better to carry the device in belt case with magnet clip, which is included in the sales package. But this case won't fit ladies, so buy a new one.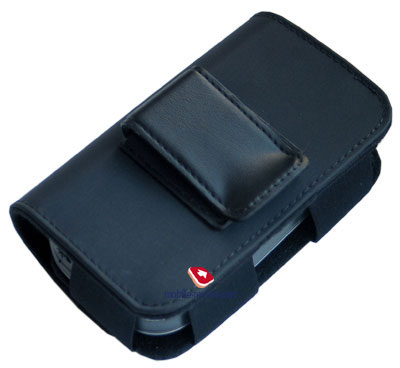 HTC Wizard platform is the first representative of Windows Mobile communicators with the side sliding keyboard. Such position of the keyboard suggests good combination of size and ergonomics of the keyboard. The Wizard will be followed by other models. This form-factor will dominate the market starting from the end of 2006.
Nominally HTC Wizard is the successor of HTC Magician, with the following distinctions:
Improvements involve new OS version, addition of Wi-Fi support and QWERTY-keyboard.
Changes for the worse imply a relatively thicker shell, heavy weight, not the most productive processor, miniSD cards instead of SD/MMC.
As a matter of fact the "real" successor of HTC Magician (without the keyboard) is still in the future, and HTC Wizard is a brand new device with many features appearing for the first time: new form-factor, new board, new generation of flash-memory, new versions of Bluetooth and Wi-Fi.
The production of the device has been started in October, in November there will be a mass release under different trademarks. The price tag without the contract will vary depending on the trademark, starting from $600. We can't call HTC Wizard a failure (like some our colleagues did, when they got familiar with the raw sample of the product). However this communicator is far from being perfect, it has its strong and weak points.
Links on the topic:
Review operating system Windows Mobile 5.0 for Pocket PC
Description:
Class: Windows Mobile communicator with the touchscreen;
Form-factor: slider;
Rivals: Siemens/BenQ P50, HP iPaq hw6715, indirect rival - Sony Ericsson P990;
Shell material: anodized aluminum / plastic;
Position in the line: above HTC Magician;
Operating system: Windows Mobile 5.0 for Pocket PC;
Processor: Texas Instruments OMAP850 200 MHz;
RAM: 47.46 MB available (not used t store data);
ROM: 49.97 MB available to store data, install programs;
Interface: miniSD, IrDA (SIR), Bluetooth 2.0, USB charging/ synchronization/modem connection, Wi-Fi (IEEE802.11g), future support of security standard i promised);
GSM 850/900/1800/1900, GPRS class B multi-slot class 10, EDGE;
Screen: TFT 2.83" (43 x 57 mm), 240x320 pixels, 65K colors;
Camera: CMOS 1.3 megapixel with flash (interpolation to 2 megapixel), video capture opportunity;
Peculiar features: stereo speakers, 2.5 mm headset jack, support of J2ME;
Battery: removable Li-Ion 1250 mAh. Battery life claimed:

Talk mode - 3.5-5 hours;
Standby mode - 6-8 days;

Dimensions: 108x58x23.7 mm;
Weight: 169 g.
Anton Kotov (anton.kotov@mobile-review.com)
Translated by Anja Rytchkova (anja.rytchkova@mobile-review.com)
Published - 6 Novermber 2005
Have something to add?! Write us... eldar@mobile-review.com